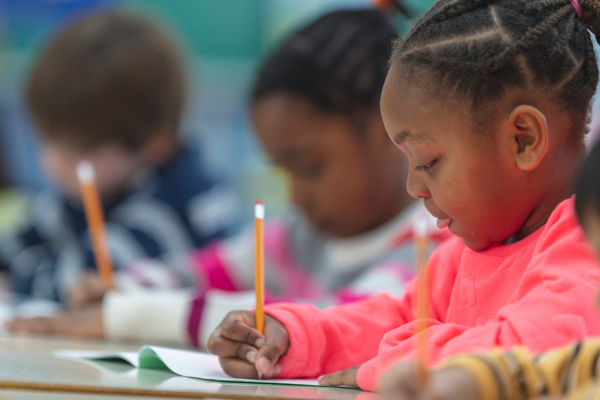 Your Unique Children + Your Homeschool Journey = Lifelong Learning Fun
The Bible tells us that each of our children is a unique creation from God, but did you know that academic research on the brain and how children learn confirms that? Scientists have discovered that each person learns through a variety of approaches and accesses information in different ways. We are individually created and intricately designed with our own talents, personalities, and learning styles. When you join the homeschool adventure, you have the opportunity to fully explore the ways your extraordinary children learn. And by tapping into the ways they learn best, you can teach them the wonder and fun of learning for a lifetime, honoring and developing their God-given passions and purpose.
For you created my inmost being; you knit me together in my mother's womb. I praise you because I am fearfully and wonderfully made; your works are wonderful. I know that full well. —Psalm 139:13-14
Knowing that God created your children uniquely, with different gifts and abilities, it makes sense that they may also gain knowledge and wisdom in different ways in your homeschool. This means parents and online teaching partners such as our certified educators at Covenant Journey Academy can work together to create a learning community that welcomes different learning styles. When you incorporate many elements into your teaching days, your children have the best chance to both learn and retain new information and, most importantly, have fun while learning!
So, what are some of the different ways people learn new information? There are a variety of learning styles and educational tools that researchers recognize that may help you identify how your children learn best. Here are a few recognized abilities and learning styles:
Visual Spatial – These students are good with visualization and often good with maps, directions, videos, and pictures. They might become good architects, engineers, or artists.
Language and Verbal – These students are good at writing stories, memorizing information, and reading. They might become good journalists or teachers.
Math and Logic – These students are good at reasoning and recognizing patterns, as well as analyzing problems. They tend to think conceptually about numbers, relationships and patterns. They might become good scientists, nurses, accountants, researchers, computer programmers, or engineers.
Body and Movement – These students are good at body movement, physical control, and dance and usually have excellent eye-hand coordination and dexterity. They might become skilled crafters, dancers, surgeons, sculptors, or actors.
Music – These students are good at thinking in patterns, rhythms, or sounds; and they might become good musicians, composers, conductors, or music teachers.
Interpersonal Skills – These students are good at assessing emotions, motivations, desires, and intentions of those around them and might be good psychologists, philosophers, counselors, or government leaders.
These are only a few of many recognized learning styles and abilities in the education community. The Covenant Journey Academy courses take into consideration these differences in learning styles, with audio clips, video portions, and discussion-based interactions with their teachers. When parents like you add the fun of reading together, field trips, and experiential learning like visiting local parks or national landmarks, learning comes to life.
One key to helping your children learn is to vary the teaching methods and ways of assessing learning. For example, a multiple-choice quiz on the elements of the scientific method would be one way to assess learning, but you could have your more artistic child make a poster of the scientific method. Your musical child could sing the scientific method. One history example could be having your children work together in a small group or with other homeschooling families to create and sing a song with movement on the history of the American Flag. They could create and present a meal that might have been served in Colonial times. These are creative and exciting methods of learning for kids who learn through music and movement – methods that can't often be employed in a traditional classroom.
Homeschooling allows you to vary your approaches to the strengths of your learners and honors their unique, God-given learning abilities. In the same way, varying a student's study environment at home might improve their chances of learning. Some children earn well in a quiet, isolated location. Others might study better outside at a park with other students. The key is varying the opportunities to learn and assess growth and knowledge both through the accountability done for you in the online CJA classroom and your own observations in your personally created homeschool environments. Homeschooling with Covenant Journey Academy gives parents the assurance that you have a large variety of accessible, exciting ways for your child to learn, grow, and experience the world God created and the purpose they have in it. The more varied the methods are that you use in your homeschool adventure, the more you can discover the exciting ways each of your children learns and give them greater opportunities for success. In many ways, this researched approach helps parents and teachers learn more about how God has uniquely made each and every student and will help you launch your children into their professional futures and focus areas.


Post Office Box 547067
Orlando, FL 32854
CJA@ CovenantJourney.org

© Copyright Covenant Journey Academy. All Rights Reserved.
Privacy Policy