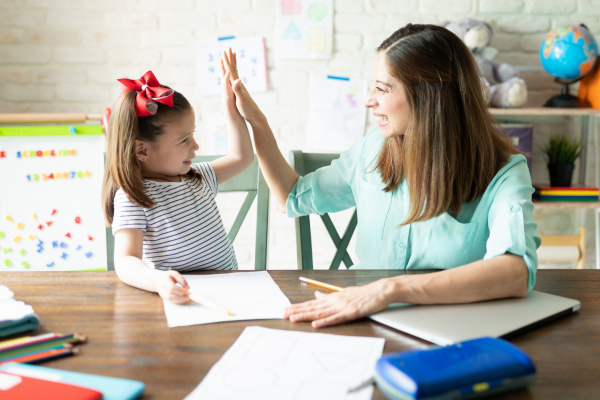 10 Strategies for a Great Home School Learning Experience
Homeschooling has become an increasingly popular option for families wanting to invest in the most valuable blessing in their lives – their children. Parents are seeking ways to ensure their children receive a fulfilling and successful education from home, free of negative external influences. Advances and innovation in online K-12 education have made this easier than ever. Fully developed, high-quality online courses free homeschool parents to focus their time and energy where it matters most -- on the development of their children, the experiences they want to enjoy with them, and the fulfilling futures they want them to have. Rather than worrying about whether you are equipped to teach certain subjects, using Covenant Journey Academy courses can help you make homeschooling the valuable and superior learning experience it should be.
If you are considering homeschooling or are new to homeschooling, don't worry. God chose you to lead your family and teach your children. He will equip you with exactly the right resources. To help you get started on your exciting homeschool adventure, or to encourage all the homeschool veterans who need a boost, here are ten strategies that you can use to increase engagement, fulfillment, and success in homeschooling your children -- from elementary to high school.
1.

ESTABLISH A RHYTHM
A consistent rhythm is crucial for homeschooling success. Children thrive on structure, and having routine and rhythm in their day can help them stay focused and motivated. Parents can establish a time for waking up, starting the day in prayer, helping each other with chores, schoolwork, taking breaks, play time, and finishing the day's lessons. For example, parents can set a schedule that includes math and science in the morning, followed by a lunch break, then reading and writing in the afternoon. Rhythms help create a sense of normalcy and routine, making homeschooling a consistent, natural part of their child's day.
2.

SET GOALS
Setting goals is another key factor in homeschooling success. Parents can discuss with their children what they want to achieve and work together to create a plan to make it happen. For example, a high school student may want to get accepted into a particular college, and the parent can work with the child to create a plan that includes taking relevant courses, participating in extracurricular activities, and maintaining good grades. This will help their children feel a sense of accomplishment as they work towards their goals, motivating them to continue. Building in small goals and experiencing frequent successes grows a student's confidence and motivation.
3.

CREATE A CONDUCIVE LEARNING ENVIRONMENT
Creating a dedicated space for learning that fits each child's learning style is crucial for homeschooling success. This may mean siblings need to learn in different rooms or at different times. Some may utilize headphones to block out noise. Some may use headphones to listen to music while learning. Some may need to hang upside down on the couch while they read. Others may need to have books neatly lined up on the kitchen table. Putting cell phones away during learning time (even yours, Mom or Dad!) can help children stay focused and minimize interruptions during school hours. Parents should ensure that their child has access to all the necessary materials and resources they need to learn effectively. For example, parents can set up a desk or table in a quiet corner of the house, stocked with any supplies your student may need.
4.

ENCOURAGE INDEPENDENT LEARNING
As your child progresses through homeschooling, encourage them to take ownership of their learning. This can be done by giving them choices in their assignments, encouraging them to ask questions and explore topics they're interested in, and allowing them to set their own learning goals. Encouraging independent learning helps your child develop critical thinking skills and a love of learning. Homeschooling provides parents with the greatest flexibility and opportunity to encourage creative and independent learning in their children.
Homeschooling offers children the opportunity to learn at their own pace and style, even choosing their own books and materials. For example, parents can encourage their children to research a topic they are interested in – using the materials they find at a local library, by doing personal interviews or experiments, or by looking up information online and create a presentation or project to share with the family.
5.

TAKE FREQUENT BREAKS
Taking frequent short breaks throughout the day can help children recharge and refocus. Parents should encourage their child to take breaks every hour or so to stretch, move around, and rest their eyes. Drinking water and scheduling protein snacks every two hours helps maintain blood sugar levels and concentration. These breaks can help prevent burnout and keep children motivated. For example, parents can schedule a 10-minute break between each subject to allow their child to relax and recharge. It may be a perfect time to go for a walk to engage in God's creation!
6.

GET CREATIVE
Incorporating creative activities into learning, such as art projects, music lessons, and storytelling, can help keep children engaged and provide a break from more structured academic work. Parents can explore different creative activities that their children enjoy and incorporate them into their learning. For example, parents can have their child create a diorama or write a story as part of history lessons. This can help make learning more fun and memorable, while building creative thinking skills.
7.

INVOLVE YOUR CHILDREN IN THE PLANNING PROCESS
Allowing children to have a say in their education by involving them in the planning process helps them take ownership of their learning and feel more invested in the process. Parents should discuss with their children what they want to learn, what interests them, and how they want to approach their education. For example, a parent can ask their children what topics they are interested in learning more about and incorporate those into their lesson plans. This will help children feel valued and respected and can motivate them to be more engaged in their studies.
8.

INCORPORATE REAL-WORLD EXPERIENCES
One of the most powerful benefits of homeschooling is the ability to incorporate real-world experiences into your child's learning like never before. Consider taking your child on field trips, encouraging them to volunteer in their community, or incorporating real-world problems into their assignments. Real-world experiences help your child connect what they are learning to the world around them and develop valuable life skills.
9.

STAY CONNECTED WITH OTHER HOMESCHOOLERS
Connecting with other homeschooling families can provide support, ideas, and social opportunities for children. Parents can join local homeschooling groups or online forums to share experiences and resources with other homeschooling families. This can also provide opportunities for group outings, field trips, and cooperative learning opportunities (often referred to as "co-ops"). Keep an eye on the CJA Family Portal calendar for events connecting parents and families.
10.

STAY FLEXIBLE
Finally, homeschooling gives families full flexibility. Parents can adjust their schedules and curriculum as needed to meet their children's individual needs and learning styles. For example, if a child is struggling with a particular subject, parents can adjust their approach or seek additional resources to help their children understand the material better. This will help ensure that their children receive a fulfilling and successful education that meets their unique needs.
Homeschooling can provide a fulfilling and successful education for children of all ages. It does take some work and requires dedication, planning, and flexibility from parents. However, it more than pays your family back with the joy and unity it brings. Establishing a schedule, setting goals, creating a conducive learning environment and using a variety of resources help you know as a parent that your children are getting the best educational experience. Taking frequent breaks, getting creative, involving your child in the planning process, encouraging independence, staying connected with other homeschoolers, and staying flexible bring the fun to your homeschool. These 10 key strategies for homeschooling can help give you success in your learning adventure. With these strategies in mind, parents can provide their children with a well-rounded and engaging education as they travel to see the world or from the comfort of their own home.


Post Office Box 547067
Orlando, FL 32854
CJA@ CovenantJourney.org

© Copyright Covenant Journey Academy. All Rights Reserved.
Privacy Policy