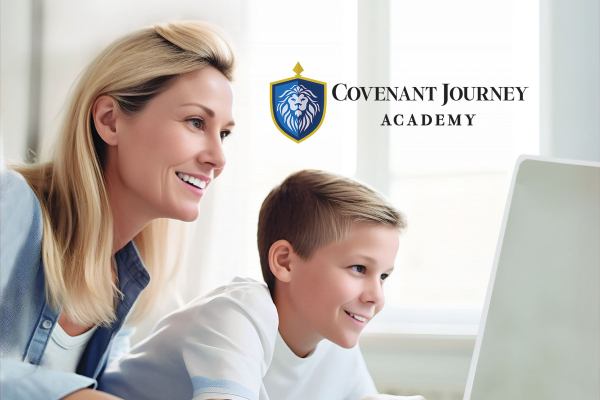 Full-Service K-12 Online Christian Academy Debuts
ORLANDO, FL – Covenant Journey Academy (CJA) makes its national debut this week at the National Religious Broadcasters convention and then at the Florida Parent Educators Association, which is the nation's largest homeschool convention with 17,000 attendees. CJA is a full-service K-12 online Christian Academy that is available around the world 24/7/365 with more than 150 courses all taught by certified teachers.

CJA offers six languages, including Spanish, French, Latin, German, Chinese, and American Sign Language. Students can begin Spanish as early as kindergarten.

With nearly 150,000 homeschoolers in Florida alone and about 4.3 million homeschool students throughout the country, Covenant Journey Academy's mission is to offer families a biblically integrated alternative to an on-campus classroom. CJA provides a superior learning experience built upon the foundation of a Christian worldview with the vision to empower courageous generations of highly skilled people thoroughly grounded in a Christian worldview to transform the culture.

There are many unique features of Covenant Journey Academy, including the following:


Biblical worldview throughout each course
More than 150 K-12 online courses for home or Christian schools
Around the clock availability 24/7/365 anywhere in the world
Extensive electives to engage children's unique skills
Fourteen Advanced Placement courses
Multiple levels of six world languages and growing
A variety of Honors courses across middle school and high school
An Honors high school diploma option
Credit Recovery options for many high school core courses
All courses taught by certified teachers
Available teachers to support student learning by phone, email, and virtual meetings
Self-paced options perfect for the specific needs of each student
Parent account to track their children's progress anytime
Rolling enrollment each week
Full-time or part-time enrollment
Affiliation options for churches and private schools to launch or supplement their own schools
Parental resources and virtual community engagement

As the popularity of homeschooling and private Christian schools has substantially increased since the COVID lockdowns began in 2020, families can now choose CJA as a full-service K-12 education option students can complete in the comfort of their home, backyard, or wherever their learning adventures take them around the world. CJA provides resources on a wide range of issues designed to equip parents to raise courageous children grounded in a biblical worldview.

While the popularity of homeschooling has experienced a 2-8% annual increase for the past several years, the COVID lockdowns caused a surge in the number of families choosing to become more directly involved in the education of their children. As a result, America is experiencing a revolution in education, having already witnessed explosive growth in homeschool students from an estimated 2.5 million in 2019 to 4.3 million in 2023. Homeschool is on the rise in all demographic areas and socioeconomic levels. Following the school shutdowns, parents were forced to homeschool their children or provide some virtual option for them. And their eyes were open to the possibilities.

Parents not only found that homeschooling was possible, but they also saw firsthand the "wokeism" of the public school system. Parents are sick and tired of having their children indoctrinated with gender ideology or critical race theory that divides people and pits students against one another based on race, ethnicity, or gender.

Some parents witnessed noticeable improvement in the behavior and attitude of their children when they were no longer subjected to bullying, undue peer pressure, or indoctrination that undermined their values and beliefs. Additionally, homeschool students have excelled on standardized tests, and research has also indicated a statistically significant difference in the social, psychological, and emotional development between homeschool students and traditional students, with homeschool students outperforming in each area.

Shawn Akers, President and CEO of CJA, said: "We're in a once-in-a-generation moment in education. The COVID-19 lockdowns gave parents a peek behind the curtain of the broken government education system, and parents are not standing for it. They're not woke, they're awake, and Covenant Journey Academy is providing the solutions they need to take back control of their children's education — affordable, flexible, high-quality online education that's leveling the playing field and setting their children up for success in school and in life."

To this end, the CJA team is dedicated to helping parents and guardians guide children in developing their God-given talents, so they can face the future with wisdom, courage, and conviction. With support from CJA's team of certified teachers and devoted staff, parents have the tools they need to help their children academically, spiritually, and emotionally.

CJA's programs are designed to ensure students have the knowledge and ability to apply God's truth to make sense of the intense, and oftentimes confusing, cultural issues facing our world today. The CJA learning experience will give students the tools necessary to stand up and stand out from the crowd.

The educational philosophy of Covenant Journey Academy is rooted in the belief that the fear or reverence of the Lord is the beginning of wisdom (Proverbs 9:10). That's why every course integrates a biblical worldview. Students are taught to critically think and reason based on the foundation of a biblical worldview.

In addition to homeschool, Covenant Journey Academy also offers Christian school affiliation options. CJA can provide all or part of your Christian school program.

CJA's leadership team has extensive experience in K-12, post-secondary, graduate, and doctoral education, including development, implementation, and management of some of the nation's largest online education programs.

The Board of Advisors of CJA is highly diversified with extensive domestic and global experience in education, government, military, business, pastoral ministry, and nonprofit management.

The Provost and Executive Vice President of CJA, Dr. Shanna Akers, commented: "Nothing is more important than our children's future. Investing in your children's education is investing in their futures and in the future of the United States. As schools around the nation are increasingly using education not to teach but to challenge traditional American values, to deconstruct biblical morality, and to re-write the American story, Covenant Journey Academy is empowering parents to provide their children with excellent private school education in the safety of their own homes."

Mat Staver, Founder and Chancellor, concluded: "Covenant Journey Academy is proud to be a part of the solution to the education crisis. We're bringing high-quality private school education into homes and private schools around the world. Life is a journey and the success or failure along the way depends on the choices we make and the roads we choose to travel. Now, more than ever, we need courageous generations of highly skilled people thoroughly grounded in a Christian worldview to transform the culture. Our destiny depends on the decisions we make today. Start your journey today with Covenant Journey Academy."

To learn more about Covenant Journey Academy, visit CJ.Academy, or call 407-875-1967. To view an informative video overviewing the many options provided by CJA, click here.


Post Office Box 547067
Orlando, FL 32854
CJA@ CovenantJourney.org

© Copyright Covenant Journey Academy. All Rights Reserved.
Privacy Policy